ILD Render
Turn your Blender animations and Inkscape drawings into laser graphics !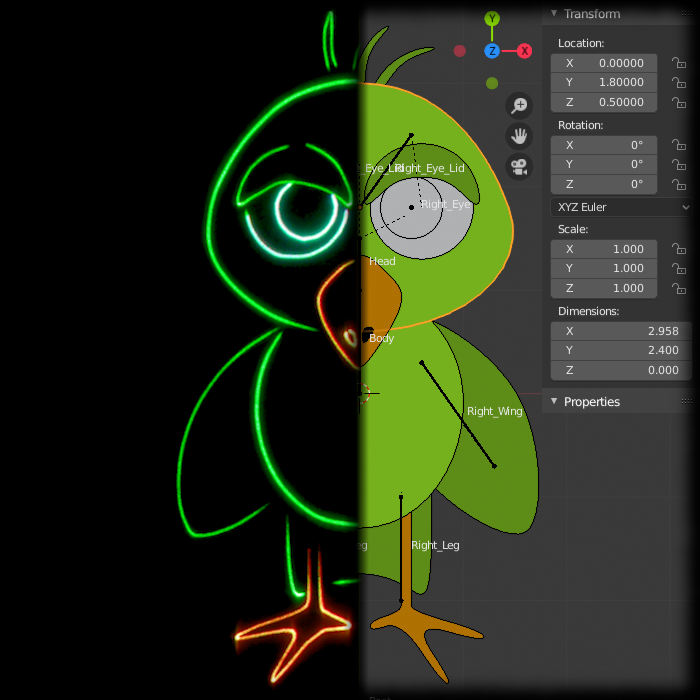 What does ILD Render do?
---
ILD Render is a tool for creating laser graphics (ILDA files) from Blender and Inkscape.
It consists of the actual ILD Render application and plugins for Blender and Inkscape
It is designed for a fast and straightforward workflow, just press render in Blender or export in Inkscape and you instantly see the graphics in ILD Render and your laser projector.
Also when you change optimization settings in ILD Render you will see the changes immediately on the projector.
ILD Render inherits the layers from Blender/Inkscape and can optimize every layer differently.
It's possible to assign layers to different projectors in case your scene is too complex for one projector.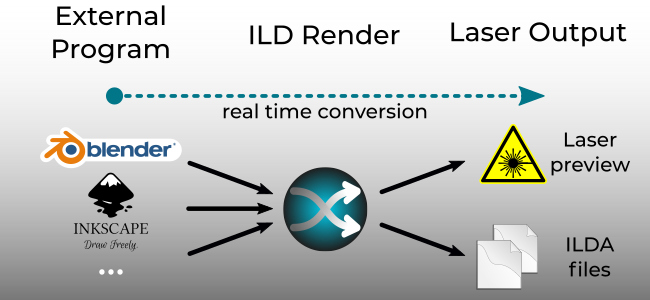 Requirements
- Microsoft Windows 10
- Blender 2.80 & up (recommended 3.0)
or
- Inkscape 0.92 & up (recommended 1.2)
Features
---
General
| | |
| --- | --- |
| realtime data transfer from Blender/Inkscape to ILD Render | |
| unique layer system | |
| every layer has its own optimization settings | |
| see optimization changes instantly on projectors | |
| split image to multiple projectors via layer system | |
| every layer can be assigned to a different projector | |
| save & load layer settings as presets | |
| zoom & pan inside preview window | |
| true color system with color gradients | |
| save every projector output to separate ILDA file | |
Projector output options
| | |
| --- | --- |
| up to 9 projectors simultaneously | |
| color matching | |
| geometric correction (size/offset/rotation) | |
| FFD correction | |
| innovative Projective Mapping to overlay different projectors on planar surfaces | |
| included test patterns to setup projectors | |
Supported DACs / Hardware
ILDA Digital Network (IDN)
Pangolin Beyond (FB4 / FB3)
Pangolin QM2000
JM Laser EasyLase/NetLase
Riya
EtherDream
Audio DAC (EzAudDac)
(untested)
Helios DAC
Laserdock/LaserCube via USB
Sollinger Lasergraph DSP


(requires Lasergraph DSP Mark 2 Software Version 2014-05-15 or higher)

AVB / Dante


(Dante is a registered trademark of Audinate Pty Ltd)

Laserworld ShowNET
Blender Plugin
| | |
| --- | --- |
| export Freestyle linesets | |
| export Grease Pencil strokes | |
| supports gradients | |
| supports animations | |
Inkscape Plugin
| | |
| --- | --- |
| export paths | |
| supports gradients (Inkscape 1.0 linear gradients, 1.2 linear & radial gradients) | |
| supports animations (Inkscape 1.2, use Pages as Frames) | |